Lincoln Nebraska

Transmission Repair & Service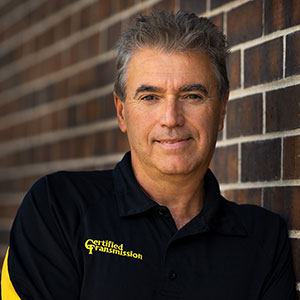 Certified Transmission is a family-owned and independently operated business that was founded in 1979 by Peter Fink of Omaha NE. With 14 company-owned retail locations in Iowa, Nebraska, Kansas, and Missouri, and distributors from coast to coast, Certified Transmission is recognized by many as the best choice for remanufactured transmissions in the United States. Each of the 14 company-owned transmission shops specialize in the repair, service, and diagnosis troubleshooting of both manual and automatic transmissions, domestic or foreign, both old and new. In addition to repairing and servicing transmissions, our expertise includes electronically controlled systems, clutches, drivetrain components, differentials, and various four-wheel drives.
The goal of the team at our transmission shop in Lincoln is to provide our customers with the most ethical, honest, and professional service in an effort to accurately troubleshoot, diagnose, and repair their transmissions, all with our company slogan "The Job Done Right at the Right Price" in mind. Certified Transmission employs technicians and specialists that have exceptional training and expertise and take pride in each and every transmission they repair. It is our belief that our customers both expect and deserve professional and personalized treatment. Additionally, when completed with a repair or service, our team of technicians want customers that are happy and leave knowing if they every have a transmission problem again, Certified Transmission will be the first name that comes to mind.
TESTIMONIALS
I had never heard of Certified Transmission before. I have now told everyone Brad and his transmission specialists will always have my business!
Excellent customer service. Fair pricing and excellent diagnostic skills with good communication of what the transmission problem is and how the repair will be made.
The technicians did a great job on my car and I thank you for working with me to help get my vehicle back on the roads of Lincoln.
Certified transmission was less expensive and finished more quickly than other repair shops quoted in Lincoln.
Keith and the transmission technicians there worked through their lunch and had me up and running by 1:30 PM the next day, saved my Christmas, and I was able to make it to my brothers for Christmas because of the hard work they did.
Jason Moulfair
Colorado Springs CO
Great folks to work with! Great customer service, would recommend Certified Transmission to anyone who asks.
Thanks again Brad and Shelly. We are so thankful, you were the right place, at the right time, and ready to help. May God bless you and your families for your efforts.
They replaced my transmission two days later and my truck had been running great ever since.
The best transmission shop in Lincoln I have ever dealt with. Period.
The did their best to keep the costs minimal. Thanks again for the great service.